Bryson Sales & Service Inc was founded on December 13, 1969 in Utah when the Blue Bird dealership for Utah and Nevada became available for purchase. Glenn Bryson had been a loyal customer of Blue Bird since 1957 when he purchased the first Blue Bird All American in the State of Utah in his capacity as Director of Transportation for the Davis County School District.
Glenn had two sons, Lynn and Brent. Lynn became the new Shop Director when his father left the school district to start his new career in bus sales. Brent, the youngest son, left his job at a local school, teaching woodshop to help his father. After 3 years of hard work and dedication, Lynn left Davis School District to join the family with their newly found business.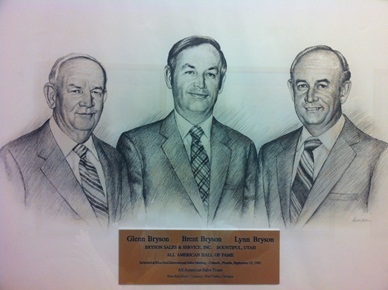 At that time Bryson's was operated out of a basement office and out of the garage in Glenn's back yard. Glenn was a passionate mechanic and had an extensive knowledge of bus maintenance and repair.
In 1972 Bryson's relocated to a facility in West Bountiful. This was a much larger, two bay facility and compared to Glenn's garage, and incredibly technologically advanced.
Glenn then later passed the business onto his two sons, Lynn and Brent. Although, he did retired Glenn would still come to work, to help out anyway he could, until he was 85 years old.
Lynn and Brent worked day and night to continue to run the successful business their father had established. During that time, in 2003 they purchased the dealership in Idaho and expanded their area.
In August 2004 Bryson Sales & Service Inc experienced the unexpected loss of Brent Bryson, who was serving as President and CEO. His knowledge, experience, rapport and expertise in the school bus industry left a void and even today he is remembered fondly by all.